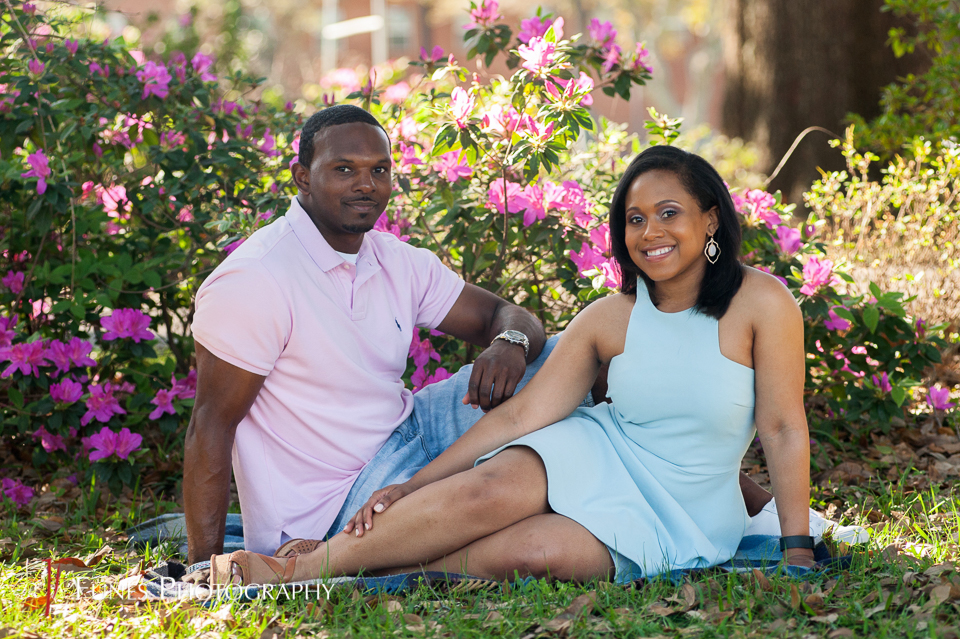 18 Aug

Brittany + Brandon | Engagement

Have you ever hung around people that you love to do so just because they are such happy and fun people to be around? Well that's how I would describe Brittany and Brandon. I have thoroughly enjoyed getting to know them over the past year and as we head into their wedding weekend, I could not be more excited about all of our plans. It is sure to be a stupendous day. Here's a quick glimpse at this sweet couple's engagement photos by Funes Photography and I can't wait to share their wedding day with you soon!
Q: How/where did you meet and what did you do on your first date? Give us all the details…
A: We met at Alabama at a house party Brandon and his roommates were having.
First date, well not really a date but the first time we hung out just the two of us was Labor Day 2010. Brandon stopped by my apartment of his way back from a cookout in Gadsden. We talked and watched tv.
Q: Describe your dream date…
A: It would involve a tasty dinner overlooking an ocean.
Q: What guilty pleasure do you share?
A: We like going to open houses and look forward to the parade of homes each spring.
Q: Tell us all about the proposal… anything go not as planned or was it completely perfect?
Brandon's A: I proposed on a trip to Vegas, Halloween weekend, on the gondola ride at the Venetian.   The plan was for her to find a "message in a bottle."  The bottle with a letter from me was put in the the water and the gondolier was suppose to stop and point it out to her. Once she read the letter I would propose.
As we were riding I saw the bottle so thought everything was fine but when we got to the bottle, he turned the boat the other way and we started heading back.  Luckily the photographer I hired saw and ran to get someone to radio the gondolier. When we got back to the front we kept on going and did the ride again. This time everything went pretty much as planned!
Q: What do the two of you like to do together when you aren't working?
A: Eat, laugh and watch sports. Preferably football.  We also love traveling and try to go on a trip out of the country at least once a year.
Q: Anything else fun you want to share about your story?
A: Even though we met in college in 2005, we did not really hang out until we reconnected through Facebook in 2010.
Q: Any fur babies? If so what are their names?
A: Yes. We have blended family so together we have 4! Deuce, Roxy, Gigi and Lucy
Q: How or when did you know Brandon was THE one?
A: There was no one defining moment but I pretty much knew around the 1 1/2 year mark because this relationship was so different (in a good way) from any other I had been in. This is the first relationship where I feel like I can be who I am and he understands and even appreciates it. We probably spend at least half of our time laughing at and with each other.  I always thought it was cheesy but he really has become my best friend and I am so looking forward to building a life together.
Images | Funes Photography