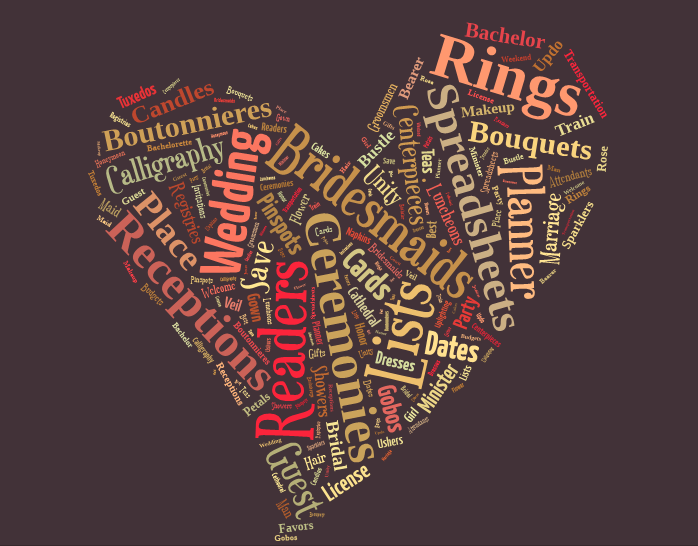 03 Apr

Understanding Wedding Vendors II

Part Two – The Wedding Planner

Since this is what I do for a living, I'm going to do my best to fill you in so you have a better understanding about my kind. I hope by the end of this, you'll gain more insight into what the job entails, be able to let go of any preconceived notions about planners, and better understand why you really want to have a planner on your team. And in case you missed it, here's part one… the introduction to this series.

First let's begin with some of the preconceptions I often hear.

"I'm afraid if I hire a wedding planner, they will take total control and change my entire vision." Sure planners are very good at creating and designing entire wedding schemes, but we much prefer to work with the ideas that you bring to the table. After all, it's your wedding and it should be reflective of who you and your fiancé are as a couple. We'll listen to everything you provide details on, concentrating on your priorities, and from there we'll most certainly have lots of suggestions for you to consider. We want to introduce you to the latest and greatest ideas in our industry but ultimately all decisions are and should be yours. I know as far as this planner is concerned, nothing is more satisfactory to me though than hearing comments from your guests all night about how your wedding was so you. Cha ching… nailed it!

"My church and/or venue has a coordinator that will take care of the details for me." Think again my friend. That coordinator has one main responsibility or focus… the venue they work for. The church coordinator is generally focused on making sure the policies and guidelines the church has given her to work within are adhered too. She will not be available to go with you to floral design meetings or run off to the tuxedo shop when one of the groomsmen shows up in the wrong colored vest. You laugh, but it happens! Same with the reception venue's coordinator. Their main focus is creating an event order that their staff will setup and operate from and balancing all the other events they have going on there while making sure those do not interfere with yours. They will not spend copious amounts of time creating a day-of schedule or communicating details to your wedding party for you. Sure they mean well when they say they can handle all coordination for you, but when reality sets in, they simply do not have the time to devote to you and your event alone. A wedding planner is paid to focus on you, all the event details, and all of the planning leading up to your wedding day and then all the way through to the end of the night.

"Planners are expensive and I'd rather use the money I'd spend hiring one on some other fees I know I'll have to pay." I can understand where a bride could feel this way but in actuality, we quickly end up paying for ourselves. Ultimately we are an insurance policy making sure you get exactly what you paid for in all the other areas you shell out those precious dollars for. Often times vendors extend discounts or additional services and products to my clients just for the referral. Let me say this too… I always ask these vendors for any referral finders fees to be extended to my client in the form of a discount. And this is pretty common among all of my "planner" friends. Call it a code of ethics if you will, but these discounts can really add up.

As for planning fees you have to consider the body of work being performed on your behalf. With every wedding I coordinate, I invest at least 14 to 16 hours on wedding day and up to 2 hours on rehearsal day, right off the bat. From there, clients choose from month of, partial, and full service planning all of which offer a varied number of planning hours and face time with me that is given. At the very least, all of my services have a base of 40 hours of pre-wedding preparations. This includes schedule creations, order of event and invoice reviews from various vendors (multiple times I should add), creation of diagrams, communication of details to all vendors on the team, followed up with all pertinent details shared with the wedding party. In most cases, this 40 hours usually ends up growing. I can't help myself… perfection is the name of the game. Then there is post-production, yep, all those things that have to happen after you and your hubby have ridden off into the night. Good weddings don't just happen, they are meticulously planned and executed.

One more thing about planners and their pricing. It varies from planner to planner, but when you investigate for yourself, you'll find most experienced planners will fall within a fairly consistent range. This is because experience matters and experience costs. Since I am from the South where football is king, I'm going to put this another way. Your wedding planner is like the team quarterback. Your team is your vendors and your wedding party. It's important that your team feel confident knowing the game day plan is in place and that someone is in charge of which play to call in the event an issue may arise. Your team will be happier knowing someone other than the bride is in charge and your planner will handling shepherding everyone throughout the day.
"The job of a wedding planner looks so fun and glamorous… I bet you love getting to be like J Lo." Ha! This one truly makes me laugh. In case you missed it, the J Lo reference is from the movie "The Wedding Planner" where Jennifer Lopez plays a wedding planner. Of course the movie shows a couple of issues that arise where Jennifer graciously takes care of them before trotting off to catch one of her favorite movies at a local park on a date night, but that's Hollywood.
Oh how I wish my days were confined to eight hours allowing me lots of free time for other interests. The real truth is a planner's work week generally consists of 60 to 80 hours and that's all before we get to the 16 hour wedding day on the weekend. Most of us are constantly running to meetings, reorganizing notes and details for all of our clients, chasing other vendors down for contract and invoice revisions, attending networking and other events to maintain our good vendor relationships, handling day to day office operations, and overseeing our business from billing to reviewing our monthly profit and loss statements.
And then there's our social media image that needs cultivating and attending to. At the top of that list is updating the blog with all the loveliness we create and awesome advice we know our readers are waiting with baited breath to read. In fact it's 9:45pm right now as I sit here writing this and my day started at 6:30am.
Then there's the post-wedding day recovery. Have you tried staying on your feet 16 hours straight while running here and there, ascending and descending stooping and standing, lifting and and toting a ton of stuff lately? Well I have and it's exhausting. Thank goodness for coffee, aspirin, epson salts and the occasional spa day!
"So, what does a wedding planner actually do?" I can answer this more with what do we not do? A wedding planner will handle as much or as little as you need them to do for you. That's the beauty of the relationship. It is up to you to decide what you need from us. Of course, we all have our base level of services we perform for every client (and at your initial consultation, we'll explain those thoroughly) but we are generally very flexible on the additional services you need taken care of. If managing your budget or guest list gives you the hives just thinking about it… no worries, just say so. It may cost you a little extra but peace of mind and extra time in your day for other activities and interests is priceless. Wouldn't you agree?
Probably the most important job for a wedding planner… we are mediators, our job is to resolve issues. All weddings have situations that range from issues with the wedding party and future family members, venue restrictions or policies to be worked through, and miscommunications on details and fees being charged from various vendors. It's the planner's responsibility to take into account the various points of view from all parties involved and then to communicate, mediate and ultimately resolve issues in ways that satisfy everyone involved. Some of these situations can be very sensitive requiring a lot of tact and skill to mediate correctly. There's that experience thing again.
Lastly I'll leave you with this. A wedding planner is hired to be an advocate for the bride and her fiance. The responsibility of maintaining focus on the couple's priorities falls squarely on the planner's shoulders. Most couples develop a very trusting relationship with their planner leading up to the wedding. So by the time the wedding day arrives, they enjoy their wedding day more because they know they have someone they have grown to trust and respect and that that person will have their back on wedding day. They also are aware of the fact that it is just as important to that planner as it is to them that their day be as close to perfection as humanly possible.
Next up… understanding wedding photographers and videographers.